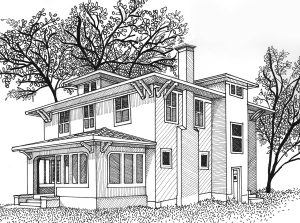 Melinda handles our illustration projects. She works in many styles and media:
Vector art – created in Illustrator, is scalable from business card size to billboard size and larger, with no loss of clarity or resolution.
Line art – Often used for book illustrations. Melinda has illustrated two children's books and created fine art line drawings as well as line art for business.
Traditional art – Created using traditional media such as gouache (opaque watercolor), watercolor, acrylic and oils on paper and canvas.
She was asked by the Galveston Historical Foundation to provide a painting of the 8 houses on the tour for their 2016 Historic Homes Tour.